General Characteristics
A high temperature silicone elastomer reinforced with expandable polyester fabric for use with cured-in-place pipe repair systems. The hose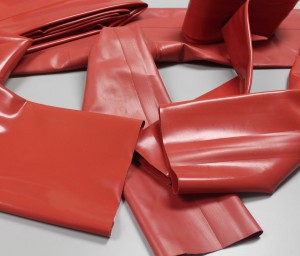 is inflated against the repair liner, which is impregnated with resin. The resin cures under the influence of heat to repair the damaged pipe wall and the hose is then withdrawn from the pipe. Silicone rubber C-I-P hose is suitable for use at temperatures up to 300F (150C), and so can be inflated with hot water or with steam for rapid cure cycles. The hoses can be reused because of their good resistance to abrasion and high temperatures. They are very flexible and conform well to pipe bends and joints, leaving a smooth finish to the inside of the repaired pipe. 
---
Availability
Standard size range with single-ply polyester reinforcement for pipe sizes from 4 inch (102mm) to 24 inch (610mm) diameter

Available for pipe sizes from 28 inch (711mm) up to 40 inch (1016mm) with double-ply reinforcement.

Special sizes on request.

T and Y sections can be fabricated in the same material for repairing pipe branches.

Standard color is red but other colors are available on request.