General Characteristics
For low and medium pressure applications Ipotec can supply diaphragms made with fiber reinforcement.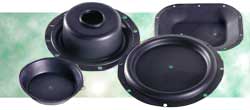 Fiber reinforcement is a revolutionary new production technology for thin, reinforced rubber diaphragms. Small reinforcing fibers are dispersed throughout the rubber matrix in place of the single fabric layer traditionally used in such applications. When compared with traditional fabric reinforced diaphragms, fiber reinforced diaphragms may offer the following advantages:
Improved sealing performance.

No possibility of leakage by wicking along fabric path.

Additional design possibilities, such as shaped sealing features and variable material thicknesses in specific areas.

Increased flex life.

Greater sensitivity and lower hysteresis.

Better ozone resistance.

Improved low temperature flexibility.

Lower operating noise levels.

Improved mechanical performance.

Cost reduction
---
Availability
We do not offer a standard product range – all products are custom engineered for specific applications.

Elastomers in regular production with fiber reinforcement include:

NBR (nitrile, buna-N).

EPDM (ethylene propylene diene monomer).

ECO (epichlorohydrin).

FKM (fluorocarbon, e.g. Viton).

Diaphragms can be supplied bonded to a variety of flange gasket materials.