GS-N5 SILICONE RUBBER COATED FIBERGLASS SLEEVING is a UL reco
gnized, high temperature electrical insulation sleeving. Available in a wide range of standard sizes from AWG#24 to 1inch, and in custom sizes up to 2in (50.8mm) inside diameter, in a wide range of colors. Alternative specifications and constructions also possible including grades resistant to temperatures as high as 570F (300C). Used wherever a highly flexible, low flammability, temperature resistant electrical sleeving is needed.
View availability and properties of GS-N5 silicone rubber coated fiberglass sleeving.
---
GSUP SILICONE / FIBERGLASS PROTECTION SLEEVE is an expandable, high temperature,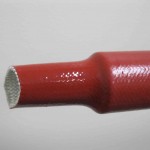 flame retardant sleeving available in sizes up to 1.5in (38.1mm) diameter, expandable to 3in (76mm). Used for the protection of hose, cable and processing lines. Sleeving can also be coated with expanded closed cell silicone rubber for improved thermal insulation.
View availability and properties of GSUP silicone / fiberglass protection sleeving.
---