FABRIC REINFORCED DIAPHRAGMS die-cut or formed from rubber coated fabric or
insert molded with fabric reinforcement. Can also be supplied with metal or plastic inserts and PTFE coating. Available in all common elastomer and fabric combinations. Custom designed for actuators, controls, regulators, valves, pumps and accumulators used in a wide range of industries.
View availability of fabric reinforced diaphragms.
---
FIBER REINFORCED DIAPHRAGMS made with dispersed fiber technology (DFT) ar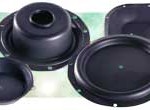 e ideal for low and medium pressure applications and offer several advantages over traditional fabric reinforced alternatives. Available in most common elastomers and custom designed for individual applications.
View availability and properties of fiber reinforced diaphragms.
---