SILICONE RUBBER PRESSURE HOSE from .063in (1.6mm)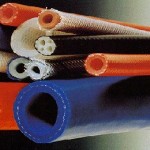 to 2in (50.8mm) inside diameter in a wide range of colors and specifications. Selected grades resistant to temperatures as low as -100F (-73C) or as high as 570F (300C). Used wherever a physiologically harmless, low flammability, temperature resistant high pressure hose is needed. Various reinforcement options available for different applications.
View availability and properties of silicone rubber pressure hose.
---
SILICONE RUBBER PIPE REPAIR HOSE for use with high temperature cure
systems in trenchless pipe rehabilitation projects. Available for all standard pipe sizes and for other sizes by special order.
View availability and properties of C-I-P pipe repair hose.
---